Bullying Preemption & Prevention Programs
Bullying Behaviors Is The Problem. Bullying Preemption is the Solution.
Bullying Behavior Increasing: Educators agree that having children arrive at school in a positive frame of mind and ready to learn is critically important. It's not happening. Kamaron Institute researchers found that half of America's school children step off a bus where negativity and name-calling is a daily occurrence.
Since 2003, Kamaron Institute has surveyed 30,000 public school students, staff and bus drivers.
Students: Over 90% of middle school and 80-percent of elementary report that the name-calling bullying behavior causes problems for them. 41% has seen name-calling on the day of the survey.
These are the seed's of tomorrow's violence. Bullying prevention is required for academic survival.
Bullying preemption allows children and staff to thrive.


| | |
| --- | --- |
| "Therefore, early interventions that disrupt or delay the development of serious aggressive and antisocial behavior may be a particularly valuable long-term intervention approach." - SAMSHA | |


Q. Identify where name calling, negative statements or bullying happens most?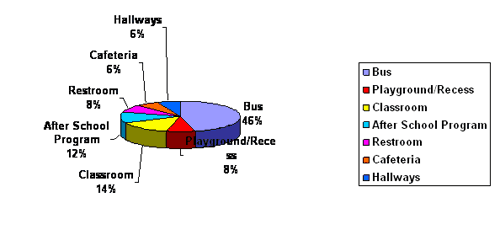 A. Students, drivers and staff agree that bullying, name-calling and other unkind behaviors OFTEN happen on the bus.
It is VERY IMPORTANT to drivers' job satisfaction to have kindness and cooperation INCREASE and name-calling, bullying and other unkind behaviors DECREASE.
Source: Kamaron® Student and Adult Surveys